"
Tinkerbrawla
is the official
Dodgebrawler
of the Knights of Gouda. She makes you nervous with those balls in her hand."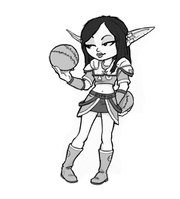 Fantasy University > Common Ground
References
Edit
Note: The Knights of Gouda as a group reference the web series The Guild, each member parodying an individual member of The Knight of Good (the namesake guild)
Tinkerballa

Ad blocker interference detected!
Wikia is a free-to-use site that makes money from advertising. We have a modified experience for viewers using ad blockers

Wikia is not accessible if you've made further modifications. Remove the custom ad blocker rule(s) and the page will load as expected.