The Big top, also known as Cirque du Dismay is a gauntlet.
Essentially, you fight a series of battles one after after, requiring a minimal of 7 Adventure Points to complete in total. Once completed, a screen will appear and you will be prompted with two choices; either 'Gear' or 'Suprise me'. This place is the only place where you can find level 14 gear as it is exclusive to this gauntlet.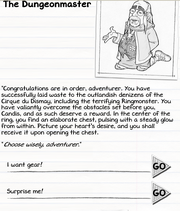 As a side note, the ringmaster reveals that all the performers are afraid of animals after completing the gauntlet once.
Using "Animal Weapons" lowers the maximum health of all enemies by 900-1000. The highest level animal weapon in game is Catch of The Day. It also changes the name of the enemies from Ferocious to Terrified. The Monkey Suit will also serve this purpose, if you'd rather keep your weapon as something else.
Preparing for the Gauntlet
Edit
To prepare for this gauntlet (or any other difficult battle(s) really) here are a few things you can do:
Related links:
Etudes Universitaires en Tunisie
Important: To edit the enemy information, please click the "Edit" button on the upper right corner of this table.
Goldman's Box (% Chance to half or double the damage received by you)
Whip and Chair (Certain enemies can be tamed to reduce their damage output by 50%)
Bearded Student (Uses various crumbs by using healing items to effectively dispel a charge and heal a significant amount of HP)
Surprise me
Edit
Circus Peanuts (GIves you a random elemental damage buff and a random elemental resist buff for )
Balloon Animal (A pet)
The gear items obtained by completing the cirque gauntlet are random. You may receive 5 Goldman's Boxes and 2 Whip and chairs for your first 7 times or 4 bearded students, 1 whip and chair and 1 goldman's box for example. All items are unaunctionable and unmailable and they are your only source of level 14 equipment. The value for the level 14 equipment pieces are significantly lower than previous level gears due to the capability of being able to repeat the Cirque dungeon/place.
Ad blocker interference detected!
Wikia is a free-to-use site that makes money from advertising. We have a modified experience for viewers using ad blockers

Wikia is not accessible if you've made further modifications. Remove the custom ad blocker rule(s) and the page will load as expected.