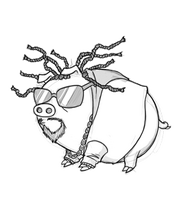 Description
Edit
He's been know to enjoy a good smoke. ...What? He likes smoked sausage, alright?
Special Attack
Edit
He breathes a thick cloud of smoke in your face, forcing you to hold your breath until it clears!
More Details
Edit
Related Quests
Edit
Reference
Edit
Snoop Dogg
Ad blocker interference detected!
Wikia is a free-to-use site that makes money from advertising. We have a modified experience for viewers using ad blockers

Wikia is not accessible if you've made further modifications. Remove the custom ad blocker rule(s) and the page will load as expected.