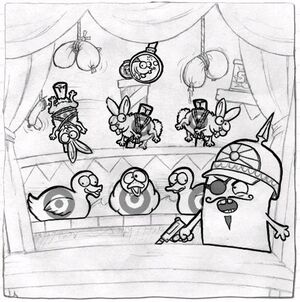 "Careful with those guns- you could pork somebody's eye out."
Win generi-tickets by shooting targets (targets are places on the picture that are 'clickable'). Smaller targets are worth more than larger targets in the order (large to small) Duck, Rabbit, Goldfish. Bad things can happen when trying for big prizes.
Duck(1)
Rabbit(1)
Goldfish(1)
The Bread Basket > Bacon Acres > Sausage Festival > To the Back of Festival > Shooting Gallery
Encounters
Edit
Overly Snide Hotdog (drops Clay Pigeon, level depends on size of target)
Possible Rewards
Edit
Related Quests
Edit
Ad blocker interference detected!
Wikia is a free-to-use site that makes money from advertising. We have a modified experience for viewers using ad blockers

Wikia is not accessible if you've made further modifications. Remove the custom ad blocker rule(s) and the page will load as expected.