Description
Edit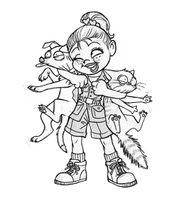 Member of the Ethical Animal Treatment in Elanthia Movement.
Finishing all Daily Quests
Edit
Melanie is tickling various woodland creatures, as she has been known to do.
"You've done enough for E.A.T.E.M.'s cause for today, <name>! Come back tomorrow for more fuzzy wuzzies!"
References
Edit
Ad blocker interference detected!
Wikia is a free-to-use site that makes money from advertising. We have a modified experience for viewers using ad blockers

Wikia is not accessible if you've made further modifications. Remove the custom ad blocker rule(s) and the page will load as expected.