Mailing is a relatively easy process in Fantasy University. Mailing allows you to communicate between friends and players. You can also mail items and fubars to others. Simply click on the mail icon to mail. You will be prompted with a compose mail button and your inbox listed below. Simply click on the compose mail button and type your message. The command prompt for mailing will be shown below.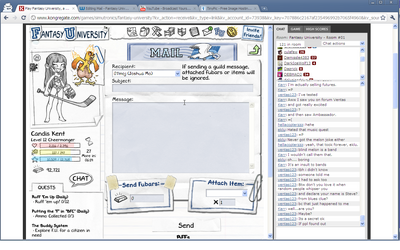 In order to mail, you need to add a friend first which you can select from the recipient menu. Refer to How to Add a BFF Video if you need assistance in adding friends. You can also additionally attach fubars or items to the mail. There is a limit to attaching up to 10 types of items of mail per day and 200,000 fubar limit per mail, however you can send mail at your discretion without any limits.
New mail will be bolded. A green icon with an exclamation mark will show up at the top of your toolbar if you have unread new mail. All mail received can be deleted, however those with attachments need to be removed in order to be deleted.
Ad blocker interference detected!
Wikia is a free-to-use site that makes money from advertising. We have a modified experience for viewers using ad blockers

Wikia is not accessible if you've made further modifications. Remove the custom ad blocker rule(s) and the page will load as expected.