The Forbidden Larder is where you can find numerous interesting places, especially for new players training up their levels.
The Culinary Cauldron requires a quest from The Top Chef to use.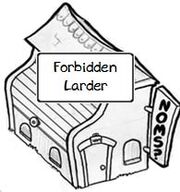 Description
Edit
For a place with "forbidden" in the name, it sure was easy to get in here.
Fantasy University > Student Local Union No. 98 > Forbidden Larder
Ad blocker interference detected!
Wikia is a free-to-use site that makes money from advertising. We have a modified experience for viewers using ad blockers

Wikia is not accessible if you've made further modifications. Remove the custom ad blocker rule(s) and the page will load as expected.