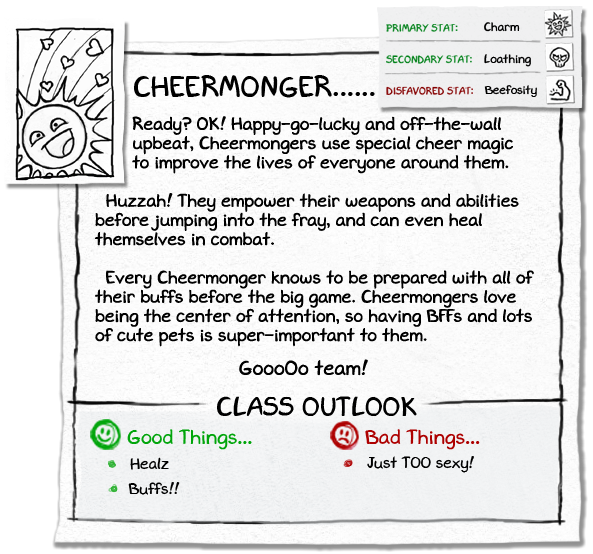 Abilities
Edit
Icon
Name
Description
Level
Cost
Type
Ability Derivation
Squad Flog
Your basic Cheermonger attack uses awesome acrobatic moves to give your equipment some oomph!
1
0
Physical
Charm - Beefosity
Gimme a Beat! Down!
A powerful, physical attack; its damage can be increased with advanced cheers.
1
3

Physical

Charm + Loathing - Beefosity
Hip Hip Heal!

When some meanie stuns or disarms you, give yourself an encouraging cheer to remove the effect and heal yourself too! (Only usable when Stunned or Disarmed.)

3
10

Dispel

Healing

~50% of maxHP
We Got Spirit!
Increases your Charm by 20% for 15 adventures.
5
8
Buff
+ Charm/5 Damage
In it to Win it!
Your Squad Flog ability will now heal you in addition to dealing damage for 6 adventures.
6
5

Buff

Healing

+ 2*(Durability)/5 HP
B! E! Aggressive!
Your equipment damage increases slightly for 7 adventures.
7
13
Buff
+ 10% equipment Damage
Fight Pet, Fight!
Damage dealt by your pet is increased drastically for 9 adventures.
10
22
Buff
+ 75% Pet Damage
We're #1!
Drastically increase the damage you deal with Gimme a Beat! Down!, and changes the physical damage to be sparkle damage for 11 adventures.
12
32
Buff

+ (Charm+Loathing)/2 Damage

Changes Damage to Sparkle

What's That Spell?
A damaging attack that also weakens the enemy's strength. (Note: it only works once per battle.)
16
9

Sparkle

Debuff

Double weapon damage + 2*Charm sparkle damage

-?? damage D.E.B.U.F.F
BFF Benefits
Edit
As a cheermonger you provide the following benefit to your friends:
Cheer of the Besties- A peppy cheer that heals the player and awards additional experience for winning combat!
Ad blocker interference detected!
Wikia is a free-to-use site that makes money from advertising. We have a modified experience for viewers using ad blockers

Wikia is not accessible if you've made further modifications. Remove the custom ad blocker rule(s) and the page will load as expected.