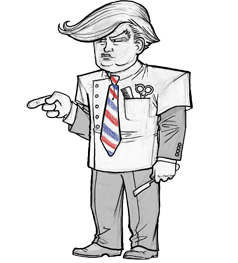 T. Ronald Dump "Hey, buddy, sorry to break it to you, but we're not open for business right yet. I've always dreamed of selling fine 'dos to those not blessed with a head of hair as magnificent as mine, but I just don't have the money to start it up. Don't worry about me, though. In addition to bearing such a regal mane, my head also houses the brain of a financial genius. I'll be rolling in fubars in no time. Now get outta here!"
Ad blocker interference detected!
Wikia is a free-to-use site that makes money from advertising. We have a modified experience for viewers using ad blockers

Wikia is not accessible if you've made further modifications. Remove the custom ad blocker rule(s) and the page will load as expected.